Deadly Dick Classic Fishing Lures - Made by people who fish, for people who fish!
Deadly Dick fishing lures are high quality, proven fishing lures manufactured in the "Salmon Capital of the World" - Campbell River, British Columbia on the Pacific coast of Canada. Deadly Dick lures are ideal fishing for albacore, barracuda, bass, bluefish, bonita, chinook, cod, coho, crappies, dorado, halibut, kokanee, king salmon, lake trout, mackerel, muskie, perch, pike, pink salmon, rockfish, roosterfish, stripers, steelhead, trout, tyee, walleye, tuna, wahu and more!
This is not your average fishing lure - Since 1949, Deadly Dick Classic Lures have been in tackle boxes all over North America, proving their ability to attract fish, all kinds of fish! Top quality, environmentally friendly materials and careful workmanship have made them indispensable to generations of both salt water and fresh water anglers. They're solid brass, nickel-plated and will not rust. Good for you and the waters you fish...
Check out our collection of fishing lures and color chart, find the shape and color to match the baitfish in your area or to trigger the strike response. You won't believe the results!
We welcome contact from distributors in Canada and the USA.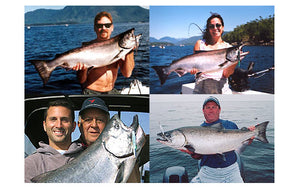 Deadly Dick Classic Lures
Deadly Dick fishing lures have been in tackle boxes all over North America since 1949. The quality materials and careful workmanship used in the production of these fishing lures, combined with their proven ability to catch fish, have made them indispensable forboth fresh water fishing and salt water fishing.
Deadly Dick fishing lures are made of solid brass, then nickel plated, giving them a shiny, bright finish. With nickel swivel, stainless steel split rings and 'seaguard' protected Eagleclaw hooks, our lures are almost indestructible. Single hooks and single bucktail hooks are optional.
Deadly Dick fishing lures will not rust and are environmentally friendly.
Check out our colour chart and see which of the 32 different fishing lure options you think would work best for you. They have a nice weight and are easy to cast. The heavier fishing lures can get down in heavy current or deep to the bottom, wherever the fish are.
Find the size, shape and colour combination to match the bait in your area, get out there and land the big one! Don't forget to send a photo of your catch for us to post in the Deadly Dick Photo Gallery!